Dear friends,
We are excited to bring you " Xyon – Compiled by Brain Driver" – featuring back to back DJsets from Brain Driver ( Sylvain Cornut / France /Fractal Records / Dropland Recordings ) . So get ready and stay tuned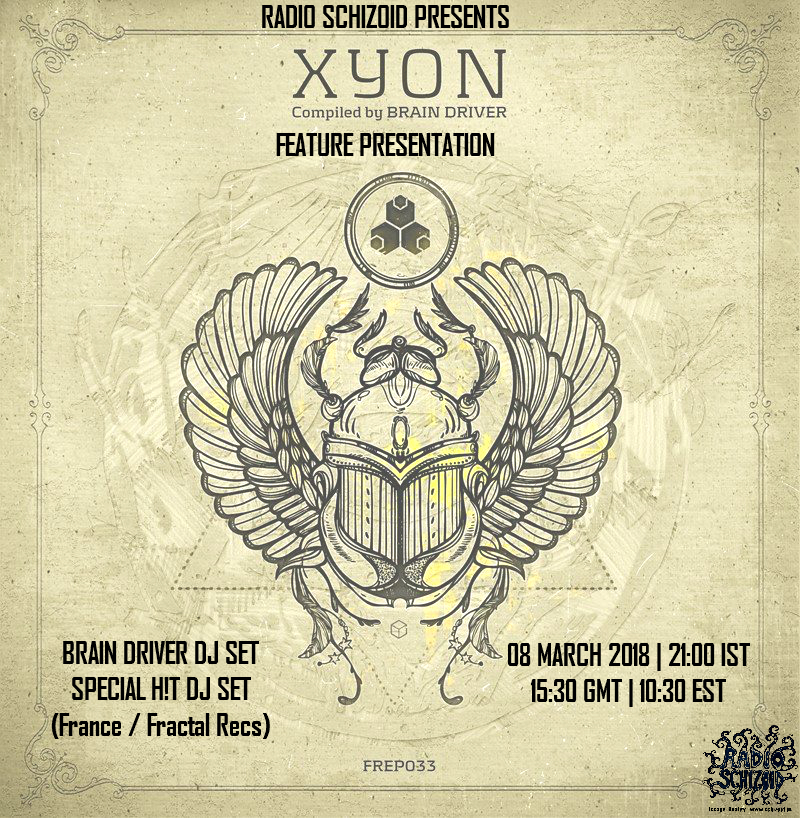 Sylvain Cornut aka Brain Driver discovered electronic music in 1995 when he attended his first rave in the south of France. He was immediately attracted to this world and after attending many more parties, he bought his first turntables in 1997. He performed at many free parties and nightclubs and in 2001 decided to try his hand at creating his own tracks under various pseudonyms.
In 2004 he attended his first psytrance party, which was a true musical shock for him, and to this day this music and its raw power have definitely changed his life. In 2006, he felt the call to create psytrance and Brain Driver was born. Since then he has played at numerous parties alongside great artists such as Talamasca, Absolum, Phatmatix, Hyper Frequencies, Geko, Freeze, Artsense, Double R.E.L, Highko, Laughing Buddha, Dick Trevor, Funky Dragon, Illiuchina , Biokinetix to name a few.
He has over the years released various tracks with the likes of Fractal Records, Dropland Recordings, Hadra Records, Terrorlab Industries, Nexus Media, Kaos Krew Records, Mechanik Records, Phonix Records and more…
2015 saw the release of Sleepless Patterns Part 1 on Fractal Records – the first part of his album which is to be released over a period of time on 3 separate digital E.P's and thereafter as a full CD album. 2016 was an exciting year with the release of Sleepless Patterns Part 2, a versus EP and various remixes and single tracks planned.
Brain Driver is an experienced and talented artist who is guaranteed to please the hearts and minds of any dance floor.
Don't forget to tune in
Psytrance / Goatrance :
http://schizoid.in/schizoid-psy.pls
Chillout / Ambient :
http://schizoid.in/schizoid-chill.pls
Dub Techno :