Dear friends,
NeuroMotor ( Frederick-Ali Talaa / Fractal Records / France ) – joins us this week for an interview with Ishikawa ( Angad Kumar Kapoor / Phonix Records / Kaos Krew Records ) on Radio Schizoid .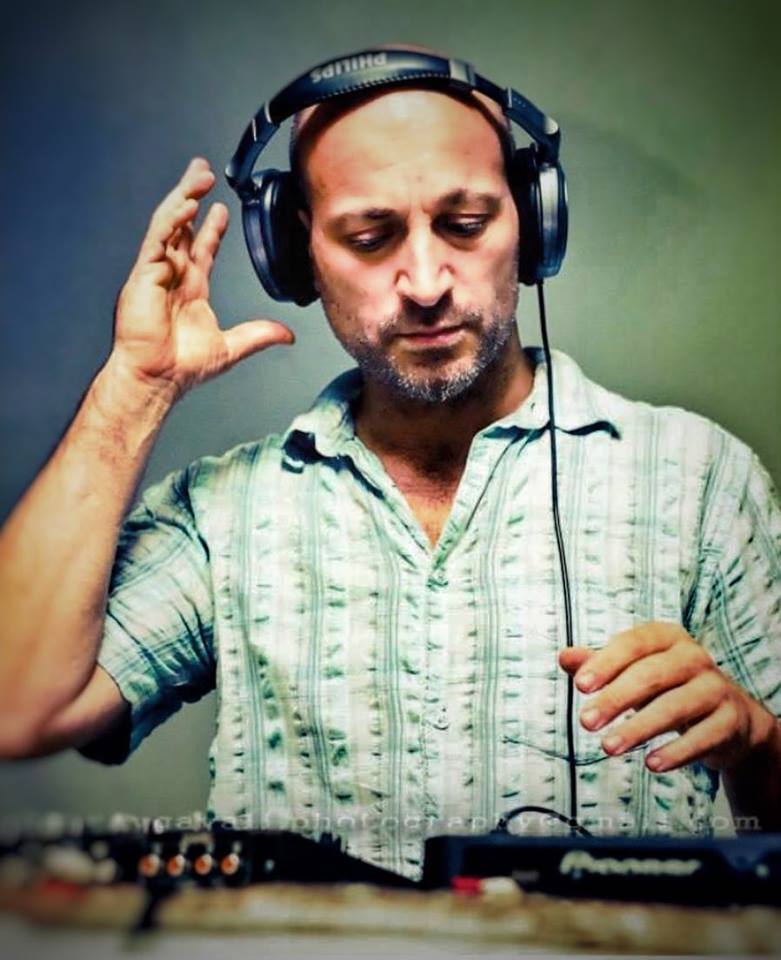 [ Ishikawa ] Fred, thank you so much for taking the time to chat with me today. For those who don't know you, can you tell us a little bit about yourself.
Hi ishikawa, I am very happy to be share this moment with you and being able to talk about my come back and my journey within the scene.
I am Frederick-Ali Talaa. For those who do not know me, I have been into the music scene since I was very young, around my 5 or 6 years old. Back then my parents were nightclub owners, and I was by them every night in the clubs, intrigued always by the DJ both and the people dancing (I had no clue yet it was going to be a core element and part of my life at that point). These two elements were the motor and the inspiration that have kept me going for so long.
At 8 years old ,I learned piano for some years,. Then by 12/13, I had a Hip-Hop band with 2 other friends and we were to performing at different nightclubs and small events in France. Later on, I discovered the sound of electronic music back in '85, new beat and acid house took over like a tsunami , it was a strong encounter which revolutionized my world just as it for 100 of millions of people around the globe. Since then my life has been always about dance music (even though I was and I am a huge fan of all genres, always listen to everything, from classical music to pop, jazz, soul, funk, rock, metal, punk…)
My music project Neuromotor started its journey back in '91 but not as a producer, instead more involved in organizing parties and DJing until '95. This was when I decided to step into a studio and try to write the music I wanted to hear. This is when the project Neuromotor was truly born.
[ Ishikawa ] You are considered by many to be a pioneer and a true legend of the Psytrance scene with over 25+ years of experience producing electronic and psytrance music. How did you come to become a part of the psytrance scene and what were these early days like?
As I explained before, I was into the electronic dance music scene since the early sounds of new beat, acid house, back in 85/86, I grew up with music of all genres, but definitely the patterns and acid sounds had made a strong impact on my journey.
Back in '95 I had a great experience during the summer and became the resident DJ at a bar called Khumaras in Ibiza. For a short period of time, I was performing on DAT players goa trance. It was wonderful and the same year , I decided and committed myself to work hard to buy myself gear and build my own home studio. I was working very hard day and night; at the beginning, working at night in hotels and bars, and during the day in the studio to learn and try to understand how this amazing music that I loved so much was produced.
It is around end '96 / beginning of '97 that I had some music somewhat ready to play, and perform, which I did in small events in France, Spain and Italy. Back then I was producing and writing music without any clue in terms of technicality and how it was supposed to be done. Music I understood, so it was a time without any limitation bounderies. I dove into it head first and the Neuromotor project started just like that. At some point, what mattered was the feeling and emotions it was generating; I wasn't overthinking the ideas and the technique behind it…I was just throwing out everything I had inside my heart and mind with the aim to share this incredible experience with the people.
[ Ishikawa ]  What is the story behind your primary projects' chosen name – Neuromotor?
Basically, after a few songs were written, I felt something that was really mechanical in my groove, in the backbone of my music. The drive sounding more like a machine and it was a psychedelic experience since day zero. So I thought "this music or material is for the brain, it has a role to speak out to your neurons…" Hence the name was pretty obvious to me. An engine, a machine who talks and connect to the brain…Neuromotor.
[ Ishikawa ]What is your studio setup like and how do you typically approach creating a new track?
My setup at the moment as I am writing this interview, is made up of a mix of analog gears, like some very nice high end processors, compressors, eqs, and summing box (it is really like an outboard mixer, without the full channels strip), very few synths, I still have an old Moog, which has been turned off for a long period of time, a nord lead rack 2 (not analog but it still does a wonderful job) and a new Behringer semi-modular synth called the Neutron.
Connected to that I have an UAD sound card and great high professional monitors called Barefoot ( I am definitely super happy and excited to work with these babies…) a long midi keyboard with a piano touch, since I play piano it is important for me to be able to feel the keys as such, various microphone connected so I can record any kind of noises and sounds or vocals for sound design approach.
And a nice acoustic setup which allows me to hear quite nicely the sound of my productions.
Working on mac and using Logic and Ableton live as DAWs to write and produce.
Approach to create a track depends on the mood, but normally I start with a concept, and idea, with my manager we talk about a name that could literally express or translate the emotions, the feeling or the state in which I am at this very moment, fitting them into a proper concept, then from that on I start recording sample, noises, and building up a groove around it, sometimes I could start buy playing few simple chord progression, that I might keep or not, and the track just flows out from that point on…
[ Ishikawa ] In addition to Neuromotor, you have a number of other projects – namely Crazy Lions Cult (vs Hyper Frequencies aka Gilles Beraud), Neurochrome (vs Chromatone aka Lawrence Hoffman), Phat Katz (vs Cosmo Chaos aka Aleks Serkisyan) to name a few. Tell us a little about these different projects and how they stand apart from Neuromotor?
Actually, it is interesting you are naming these projects as they were all super active back until 2014. but since then I haven't work on these project. Over the years of exploring with Neuromotor, the fact is that I wanted to be able to experiment with other areas of this music. I felt like Neuromotor was great but I needed to play and write different possibilities, such as I did with my first side project which was called E.S.X.S, back in 2001 and I released it on my own record label Mechanik Records…
I am actually writing music with different producers now – Brain Driver, Tron, Black Noise, Guaspard – we did one track with Synchronic on his new album… with Brain Driver and Neuromotor, Guapard and Neuromotor we are coming together with new projects – very exciting stuff and a lot to talk about soon…
The idea is to not have any boundaries, to let the flow of music and creativity take over, we want to have fun and experiment, so I would say that every new project and collab brings out very different grooves and sounds designs, melodies and harmonies, experimenting, different BPM, all through a specific concept, which I can't yet talk about…
[ Ishikawa ] Over the years you have collaborated alongside a host of big names like Brain Driver, Menog and Phatmatix to name a few. How do you normally approach writing a collaboration? Is there anyone else left out there who you would like to work with?
Well for a collab it really depends, if we can sit down the studio together, then we take on direction, we share the work side by side, loads of focus and laughing I have to say, the approach generally speaking is different when we do our Collab's
at distance, one starts an idea and we keep and passing the project on to each other until it is completed, it is also nice this way each and every one can work at his own rhythm pace.
Many out there I would love to work with difficult to name since so many, but definitely out of the batch I can name Ajja, Lucas, Dickster just to name a few and many more also in the Progressive Psy trance field!!!
[ Ishikawa ]You have recently kicked the Neuromotor sound machine into overdrive in 2018 – with numerous singles and an EP on Fractal Records. You now have a brand-new EP coming soon on Digital Om Records. Tell us a little more about the new EP and the new Neuromotor sound in general.
Well since 2018 there have been a few releases, the engine was put back on track with various singles on compilations that came out on Fractal records, Nano, and Digital OM . These are the 3 labels I have been working with so far and Blacklite records is the next one to come with many more to come this year as well.
My new Ep just came out in the last fifteen days on Digital Om, I am very excited and happy about it – "Sonic Signals" which also includes a collab with Brain Driver.
I have felt the need to write and produce Psy-Trance again after quite a long break. I was producing and writing other genres like techno, Indie rock. I have been working with Trap and Hip-Hop artists as well, and have been teaching since I opened a school for music production. So for some years it was great and tons of fun, but at some point the core of the Motor (Lol), was missing the drive of Psy-trance. So it came back quite naturally and with my manager doing big plans, we have a very interesting strategy which we are working towards to, and I am so very excited about it all. I love the way my music is coming along, the new grooves and design I have been exploring lately. Since I have been working with many different genres – it does help me a lot to think out of the box, I am very open to different types of inspiration. Back with the instruments for some years now, it also make me structure my track in a different way.
[ Ishikawa ] A good friend of mine recently asked me, what is your favorite Neuromotor track? And I honestly had a very hard time answering him! What do you consider to be your favorite work?
Good question, if I think from old tracks, I would say 'Brain Forest' and 'Fuck the dat mafia'. Also 'Triton kill me' released on my first album on Acidance records.…These tracks were written from 98 to 2000, now I would say a track called 'Disco Dragon' released in 2018 on Nano Records. I always find it difficult to choose which track is my favourite.
[ Ishikawa ]Having seen your DJ sets first hand – I can testify to your undeniable and electrifying stage presence. I have also heard of stories of legendary DJ sets with you spinning on 3 or more decks. What do you do to make your DJ sets so memorable and whats your ideal dj setup like?
I learnt DJing when I was a little kid, and coming from the Hip-Hop industry, it was really something I wanted to explore in my sets – like with certain types of music within the psy trance scene, mixing several tracks together, to recreate a story, as much as it is done in the techno scene. I believe as a dj we are story tellers, and I feel my role as such is to bring to people a certain vibe or a certain mood, through the story that I extract from all these tracks and blend together. I feel it is not about playing super tunes or hit after hit, but finding sounds, grooves riffs and harmonies that fit well together and re-create a new flow through all these elements to bring the audience into another state and have a blast of a journey.
I use to mix with 4 desks, and yes it was so much fun.
My ideal setup really depends, nowadays I use Traktor and compile tracks on four decks and loops that I design myself to mix them all together. Now I am studying how I am going to perform my live set, for which I want to play with Realtime step sequencers and analogue machines, like I use to back from 98 to 2001, I am still in the process of analyzing and putting ideas together.
[ Ishikawa ] I would be remiss if I didn't take a chance to ask you the Mechanik Castle double CD release you put together back in 2005 on your own label – Mechanik Records. For those who dont know this magical release – tell us a little about the story behind the making of this incredible masterpiece. Rumour has it that there might be a remaster in the works – care to comment?
Ahahahaha, yes. I opened this record label back in 2002 to be extract the Mechanic-sound records, I wanted to have a certain freedom when it came to releasing my own music and to have the friends, I wanted to share this with throughout this journey. Indeed, the release your talking about was quite a master piece, the Mechanik Castle compilation had 18 tracks and was double cd.
The story behind it, was super fun. Hyper frequencies, Phatmatix, Chromatone, Dj Anaka, Dj Taj Mahal, the side project we had Crazy Lion's Cult and me as Neuromotor – we all worked together in a fantastic castle for about 8 months or so. It was the most intense and extraordinary experience, with its ups and downs, but really an amazing feeling even when I think about it today. Imagine about 6 home studios running all together in different rooms of this castle, which was 5000 meter square, in a small little village in the south of France, with very few houses around and super nice classic French bakery just in at the end of the alley…they saw us every morning at 6 am after our crazy work sessions!!!
I could talk about it for ages, but it would be too long, it was definitely a great time.
A few months back Lawrence Chromatone started talking about the idea of pulling a full remix compilation out of it… Wel'll know and we will see – it could be, all project need their time, but definitely something in the pipeline here…
[ Ishikawa ] What music are you listening to these days? Any psytrance acts that we should keep on our radars?
I am listening to a lot of things, from classical music at night to relax, after playing piano myself. But I still love good old punk and metal, or very smooth jazz session in some bar around the area where I live. Music is like life – it is so diverse, it has its moments, it really depends on the mood, funk in general is also something I am def digging into!!!
As for psy trance, there are many many youngsters that I have heard. I cant think of a specific name of a project, but there are so many great producers out there, very creative and talented…
[ Ishikawa ] What has been your craziest party experience yet?
Boom and Ozora festival, but definitely I had the most intense experiences in many parties I have performed at. It is again, a very difficult thing for me to say one or name a few since there have been so many parties which were just amazing, because of the feelings shared with the people, the music, the location, the combination all these factors… And truly in every country – I have experienced this since I started DJing professionally back in 94.
[ Ishikawa ] A final wacky question now, if you had to pick your spirit animal – what would it be?
I did a little meditation to ask this question and the first animal that came out of it was a jaguar.
[ Ishikawa ]Fred, thank you so much for your time today and for the years dedicated to your artform. It has been a real pleasure talking with you. Before we end the interview, any final shout outs?
I think it is best time for our scene, it is growing and evolving. I feel we are all breaking boundaries and experimenting. I would say just let's continue like this and let things be free at their very core, in terms of expression and creativity. Thanks to you for hosting me and having me sharing a bit of my experiences. Peace!!!
Don't forget to tune in