Dear friends,
Ghost Note ( Shahar Fahima (Israel) / Oded Kiakow (USA) / Psytribe Records ) – join us for a special interview with Ishikawa ( Angad Kumar Kapoor / Phonix Records / Kaos Krew Records ) today on Radio Schizoid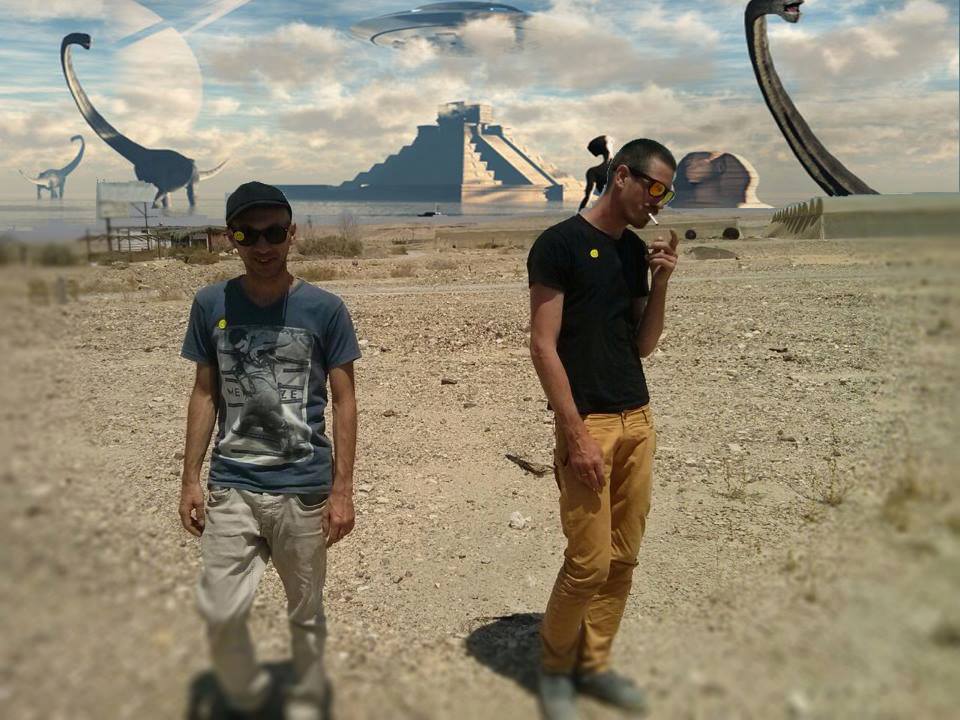 [Ishikawa] Hey guys! Thank you so much for taking the time to chat with me today. For those who don't know you, can you tell us a little bit about yourselves.
We are Shahar (37) from Israel, producing psytrance since 1997 and Oded Kiakow (USA) a highly experienced musician & producer. Shared has released many tracks with my former project "BASIC" and work as a musical producer and sound engineer.
[Ishikawa] What is the story behind your primary projects' chosen name – Ghost Note?
Shahar: Ghost notes is a musical term, usually to describe soft drum notes between the beat. I just like this concept as out music is filled with Ghost sounds in the background and also unique rhytms.
[Ishikawa] What is your creative process to make a new track?
Shahar: Because were a duo that lives in different countries i guess the whole process is unique. Usually one start and the other finish it.It can start with a great beat or from a vocal sample taken from a lecture etc..There is no pattern for a track and each one is different.
Oded: We got tracks that we wrote separately, but I think that we sit together at the studio we write our best stuff.
[Ishikawa] What is your studio setup like?
Shahar: I own our main studio in israel where the final stages of mixing and mastering are done. In the studio there are – many synths including a modular synths section and some other synths and drum machine. In the rack theres few multi-fx processors and amp-modeling device. I use Cubase 10, Lexicon sound card and lots of VST instruments and samples as well.
Oded: I have a home studio with focal monitors, I use duet by apogee sound card, I use Ableton 9 and my main VSTs are Serum and operator, I also use Moog and Maschine by native instrument.
[Ishikawa] Recently you have had the chance to collaborate with a number of acts such as U-Recken, Kobi (1/2 of Loud) and Strange Cookies. How is the creative process different when collaborating with other artists?
Shahar: I like collaborations as it usually brings out the best from each creator. i tend to keep an open mind about the direction of the track and let the other artist influence the track; usually it turns into something that sounds different from both projects.
Oded: I think that working with other artists enhances the creativity during the process because every person is a different individual that observes creation differently than the others and so influences the work.
[Ishikawa] Your work has always reminded me of old school full on psytrance from the early 2000s especially Cosma, Black & White, and Psysex to name a few. What are your musical influences?
Shahar: You are right! I started creating psytrance around the same time as those guys and I am actually good friends with Black & White and Psysex. With my former psytrance project called "BASIC", we re-created and remixed some lesser known COSMA tracks. Recently we made new remix for Cosma`s "Keep going"
Oded: I like a lot of differnt musical genres. Specially extreme metal. But I think our music is also influenced by techno music and Hallucinogen.
[Ishikawa] Over the years – you guys have had a large number of releases including EPs, solos, vs. and a number of remixes too – what do you consider to be your favourite work?
Shahar: I cant think of a favorite track… each one is different and every time we change our style a little bit so we dont get bored.
Oded: My favorite track is the last one we wrote together in my studio in California. "The Reunion", we will release it soon.
[Ishikawa] Is there anyone out there you would like to collaborate with?
Shahar: Simon Posford
[Ishikawa] What can we expect from Ghost Note in the future?
We ae making new music all the time and are working on new EPs for various labels.
We have new colaborations with KOBI, U-Recken and some more we cant say at the moment
[Ishikawa] Do you have any other musical projects that you work on?
Shahar: I produce various artists in different genres such as blues, folk, rock etc. Sometimes I create electronic influenced songs and chill tracks
Oded: I have 2 more project: The Definitions – indie rock with heavy electronic sounds with childhood friend Amit Schulman from the the band sunk and Salat Crew with Adi Ben Yehuda, an amazing sax player and musician, we create psychedelic down tempo with live brass section.
[Ishikawa] What has been your craziest party experience yet?
We have had lots of great experiences through the years.. One party that pops to my mind is a party in the Israel desert which we had to drive 4 hours for just to see the police had taken the sound system.. In the end they got a new system and we got to play a really cool set in the morning. The whole day was crazy but probably this story can't deliver the full vibe of it.
[Ishikawa] A final wacky question now, if you had to pick your spirit animal – what would it be?
Shahar: Not sure….maybe a beaver? An owl?
Oded: Kangaroo
[Ishikawa] Thank you so much for your time today. It has been a real pleasure talking with you. Before we end the interview, any final shout outs?
Many people helped us through the years…
Dj Shamane from Headroom Production
Dj Barakuda from Psytribe Records
Richard (the unknown alien) from Conclave Records
U-Recken, Kobi, Coming soon (Irad) and many more to mention..
Ghost Note links:
Spotify: https://open.spotify.com/artist/4seFRULnae67Lf9UU0FQye?si=b_K0PhCNSlOnzPMvZWwXYw
SounCloud: https://soundcloud.com/thetrueghostnote
Facebook: https://www.facebook.com/GhostNotePsy
Youtube: https://www.youtube.com/conspirala
BeatPort: https://www.beatport.com/artist/ghost-note/46158
Instagram: https://www.instagram.com/shahar_fahima
https://www.instagram.com/psyghostnote
Don't forget to tune in
Psytrance / Goatrance :
http://schizoid.in/schizoid-psy.pls
Chillout / Ambient :
http://schizoid.in/schizoid-chill.pls
Progressive Psytrance :
http://schizoid.in/schizoid-prog.pls
Dub Techno :