Dear friends,
Strain ( Rahil Malde / Totem Records / Replicant Records | The Village SA ) – joins us for an interview with Ishikawa ( Angad Kumar Kapoor / Phonix Records / Mechanik Records ) on Radio Schizoid.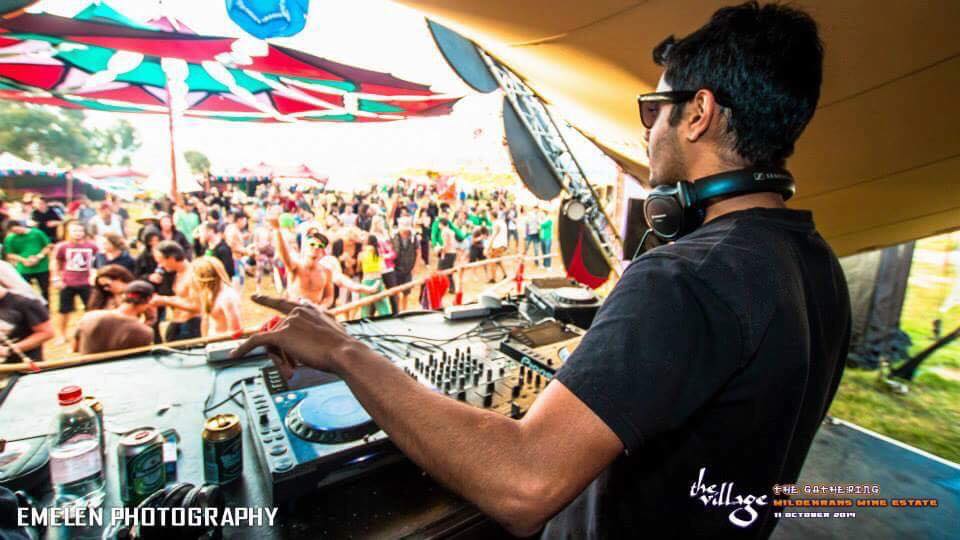 [ Ishikawa ] Rahil, thank you so much for joining us today. Please tell us a
little bit about yourself and how you got into the psytrance scene?
Thanks for having me Angad. How I got in the scene is a really long story but
I'll try to keep it as brief as possible.
Growing up in Kenya, there wasn't any Psy trance, and although I'd heard of it,
I never really knew what it actually was. After finishing high school in 2007 I
went on holiday to Goa where I went to my first Psy Trance party at the one and
only 'Hill Top'. Sure I thought it was a bit weird, but I fell in love
instantly.
Eventually I ended up in Cape Town for my Tertiary Education and that's when
things really started to happen. I think my first party in CT was a Vortex in
2008 and I still remember how I was in awe of the sounds, lights and especially
the psychedelic culture, it was definitely the coolest thing I'd experienced up
to that point. I basically started going to every party possible, big or small,
indoor or outdoor, until I was knee deep in the CT psy trance scene. It only
took about a year of going to parties before I tried my hand at DJing. I must
say that all the friends that I made along the way also helped in cementing
myself in the scene.
[ Ishikawa ] So what is the story behind your chosen name of 'Strain'?
Ahh yes, firstly it has nothing to do with a 'Strain' of marijuana, as I often
get asked. When I started DJing, I didn't plan for it to become something
serious, I was pressed for time and needed to come up with a name fast as I had
just scored my first club gig. At the time I was studying my Bachelors in Civil
Engineering and I remember trying to come up with a stage name during one of our
engineering science lectures, about Stress & Strain (an important aspect of
engineering), that's when I picked Strain. In general, when you add a force to
an object and the object deforms, it is under strain. Given the intensity of the
music that we play, I thought it would be a suitable name.
[ Ishikawa ] You have been part Djing for over 7 years now – what artists do you
consider your greatest influences?
Oh wow that's a tough one, I could go on for days on which artists have
influenced me. Narrowing it down I'd have to give my greatest influences to
South African Twilight Blasters, as when I joined the scene, South African
twilight was at its best. So that would be Rubix Qube, Biorhythm, Rabdom L,
Twisted System, Deliriant, Shift, Hiyarant and Frozen Ghost. Internationally I'd
have to say Tryambaka, Sick Addiction, Sub-zero, Earworm, Z3ro, Remove,
Antispin, Absolum, X-side, Ex-gen to name a very small few. Of course my taste
in music evolved and I started listening to all types of Psy so I have to give a
shout out to Earthling, Phatmatix, Xerox & Illlumination, Menog, Iliuchina,
Koxbox, Mind Core, Digital Talk, Mad Maxx, Chromatone…honestly I don't know
where to stop with this list.
[ Ishikawa ] You are the mind behind the series – Compression Session – having
released 2 installments with Replicant Records (Australia). What is the story
behind the series and can we expect a Volume 3?
As I'm sure you know Angad, Psy trance doesn't do too well in terms of sales of
music. My idea behind the "Compression Session" series was to try and have a
unique theme for each release, to have it stand out from the other usual VA's an
EP's. The first CS was based on my influences at the time, the second CS was
based on having an artist remake one of their favourite/classic track, older
than 5 years. I wanted to give the consumers something different. And yes, I'm
currently in the process of finalising the third instalment of Compression
Session, I don't want to share too much info on it yet, but I can say that it
will be a full 10 track VA, with an extra special and unique theme. I'll be
releasing with Replicant Records and we are aiming for an end of 2018 release.
Keep an eye out though, because there are some quality artists on the list.
[ Ishikawa ] You are signed with a number of labels, Replicant Records (Australia)
– a well-respected name in the twilight psytrance genre, as well as newly
founded Totem Records (Mexico). How has it been like working with these labels
and any label secrets you can share with us?
Unfortunately I don't have any secrets, most of what we do is straight up. What
I can say is that joining Replicant Records was possibly one of the best moves I
made. When I joined, the label had just started, Richard Sloane (DJ Glacial,
owner of RR) who was a friend of mine at the time, popped me the usual message
"Hey bro, I'm starting a label, want to join?" and I was like "cool bro". But
yeah, Richard's passion for twilight psy really inspired me and he is definitely
one of the greatest influences for my DJ career. To be honest, recently Richards
been really caught up with his day job, which is very demanding, and hasn't had
much time to dedicate to the label. That's when I came across Totem Records,
they have a very similar artist roster to Replicant Records, and managed by
Manuel Elizade (DJ Vishudha – a pioneer in the Psy world), and I was interested
immediately. We are all very close in this twilight scene, so it didn't take me
long to get in touch with Manuel and pitch myself to him, and to my surprise he
was more than happy to have me on board. I've only been signed to Totem Records
for a few months, but I can say that there are a lot of wicked releases (and
possibly events) lined up, and I'm super excited for what the future has in
store for both Replicant and Totem Records.
[ Ishikawa ] In addition to Strain, you also have a Dj act 'Archain' alongside Dj
Archive (Lyle Jensen / MMD Records, South Africa), signed with Fractal Records
(Switzerland). How did Archain come to life and how does Archain differ from
Strain?
Lyle was one of my mentors when I started out, I actually did a crash course in
mixing with him, and he definitely taught me the tricks of the trade when it
came to technical mixing. We played quite a few back to back sets as Archive Vs
Strain and realised how much we enjoyed playing together. We then realised that
we had a very similar passion in psy, especially outside the twilight genre. We
both had our reputations and always got booked for those late night, aggressive
slots, where as we both really wanted to have a go at playing some more day time
psychedelic tunes. So we decided to join forces and have a go at the day time
scene in SA. So to answer your question, Archain is our take on psychedelic day
time full on, where we try to have more of an uplifting feel, while maintaining
the high energy basslines we are more known for. Strain is very much the more
aggressive, low key, fast paced, dark yet melodic twilight psy. Regardless of
which act, we always consider our music to be psychedelic with an attitude.
[ Ishikawa ] From one DJ to another, I am curious – if you had to name one
favorite track of all time, what would it be?
Rubix Qube – Smoking Mirrors. Honestly you know how hard of a question that is
to answer, because my taste in psy has definitely changed over the years and
there are SO many tracks that have inspired and/or influenced me. But Smoking
Mirrors has a special place in my heart, not because of its musical talent, but
because of all the good memories it brings from my early days, and because of my
close relationship with the artist, Kieron Grieve (Rubix Qube). I even had him
make a remake, which I released in Compression Session – Volume 2. It's just one
of those tracks that I can listen to again and again, and never get bored of.
[ Ishikawa ] Do you have any plans in the future to make the leap from Djing to
actual production?
Hell No. Lol, actually I had my hand at production in the early days. But
production really requires a big commitment and it takes a fair bit of time.
Given that I'm pursuing a career in Engineering, I don't have the time to
dedicate to production. I also thoroughly enjoy the track selection process and
live mixing that comes with Djing. So there's definitely no chance for me making
the leap to production.
[ Ishikawa ] As a Dj with many years of experience under your belt, any advice for
beginners looking to get into the scene?
Yes I actually used to run a Djing course for beginners when I was in Cape Town,
so I have a bit of advice when it comes to starting out. First and foremost, get
your mixing down. You have to be able to mix 10 tracks flawlessly, and this is
the bare minimum requirement as you rarely get praised for good mixing but poor
mixing can really harm your reputation. Practice makes perfect, I remember I
used to practice for 4 hours a day, every day until I was super comfortable
mixing anything. Once you have your mixing down, is when the real fun starts.
Being a DJ in this day and age is much more about networking, promotion and
track selection. Take the time to build your network and have a consistent
source of new material, whether is buying from Beatport, or asking the artist
directly. I guess this is the hardest thing about being a DJ, keeping things
fresh. Lastly, just keep at it, being a young DJ is always hard as the bookings
are scarce and it' hard to stay motivated. As long as you keep doing a good job
and build your reputation slowly, your almost sure to succeed. Its also
important to ask yourself why you want to be a DJ, is it just to be able to
grace the stage with your presence, or do you have an honest love for the music
you play.
[ Ishikawa ] Apart from DJing Psy trance, what do you spend most of your time
doing?
As mentioned above, I'm a passionate engineer and I currently work for a company
called Weld-Con, which is a construction company in the Oil & Gas industry in
East Africa. So we build storage tanks, pipelines and other infrastructure for
petroleum companies like Shell. It's a very demanding job in a high pressure
environment but I do enjoy it.
[ Ishikawa ] What has been your craziest party experience yet?
Pretty much every party I've been to, has had some sort of crazy experience. I
think in an attempt to keep this interview PG friendly, I'd have to say playing
back to back with Chemogen (Aviv Hallale) at a Beartrap event back in 2010, when
one of the party goers thought it would be a great idea to climb through some of
the stage décor to get on stage (note he wasn't in his right senses). Well the
décor ended up holding on to his pants but he didn't realise, and he came up
behind us. Both Aviv and I were super astonished to his man bits bouncing to the
music between us, security weren't able to get a grip of him because he was a
slippery fellow with a naked body. We laughed, great party!
[ Ishikawa ] A wacky question now. If you had to pick your spirit animal – what
would it be?
Hands down, Lyle Jensen. Lyle Jensen would definitely be my spirit animal.
[ Ishikawa ] Rahil, thanks so much for your time today. Before we end the
interview, any final shout outs?
A big thank you to you, Friji and Radioschizoid for having me, and yes I just
want to give a shout out to my fellow Twilight homies, like you (Phonix Records)
and all the other twilight labels (Fractal Records, Hypergate Records, Dropland
Records, MMD Records, 3D Vision, Mechanik Records and the rest!) for keeping up
with the releases during this testing time for Twilight.
Also just a big shout out to some of my close DJ friends, who have inspired,
influenced and supported me since day one. That is Shane Renew (Deliriant), Lyle
Jensen (Archive), Kieron Grieve (Rubix Qube), Craig Hudson (Rabdom L), Lester
Pywell (Jester), Calvin Pfaff (Switchcache) just to name a few!
Sound-Cloud:
You-tube Vids:
– https://www.youtube.com/watch?v=4ZXxwNjYR2w
– https://www.youtube.com/watch?v=tBKSpQWithA
Releases:
– https://pro.beatport.com/release/compression-session/1153796
– https://www.beatport.com/…/compression-session-2-th…/1863204
Don't forget to tune in
Psytrance / Goatrance :
http://schizoid.in/schizoid-psy.pls
Chillout / Ambient :
http://schizoid.in/schizoid-chill.pls
Progressive Psytrance :
http://schizoid.in/schizoid-prog.pls
Dub Techno :
http://schizoid.in/schizoid-dub.pls