Dear friends,
DJ Vishudha ( Manuel Elizalde / Mexico / Totem Records / Digital Psionics Records ) – will join us for a special show, featuring an exclusive Liveset, followed by an interview with Ishikawa ( Angad Kumar Kapoor / Phonix Records / Kaos Krew Records ) on 27th August on Radio Schizoid .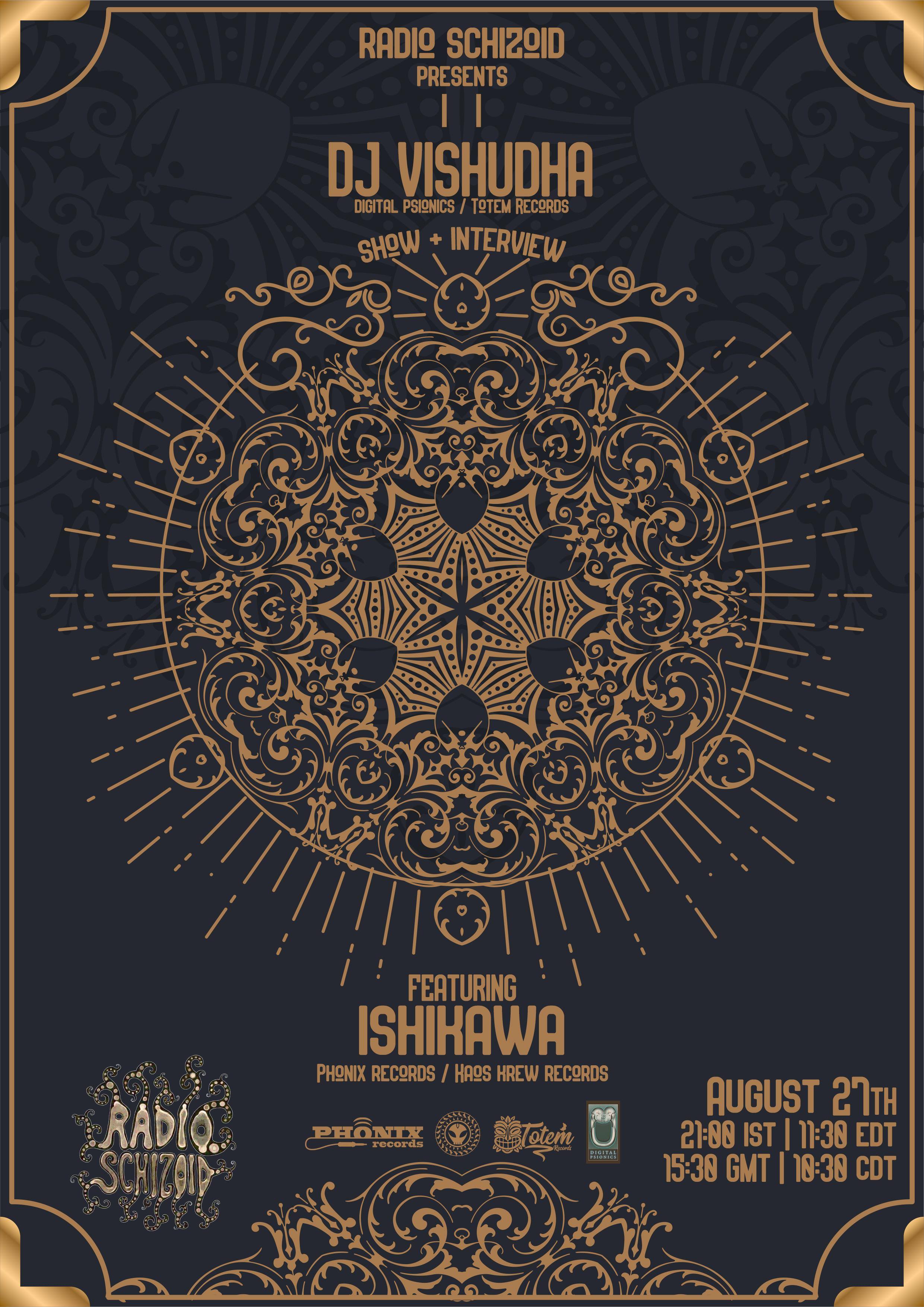 Manuel Elizalde, better known as DJ Vishudha, has established himself as one of the best exponents in the PsyTrance scene in Mexico. During his 9-year career as a DJ he has collaborated on international labels like Hypergate Records/Portugal and Mechanik Records/USA. Is now an active member on two of the best labels around the globe Fractal Records/Switzerland & Trick Music/England. His great abilities on the turntables have taken him to fantastic events around Mexico and Switzerland. Also working as a graphic designer under the name Lotus Artworks. Launched various Cover EPs and Flyers on fantastic labels and parties around the globe.
On May, 2012 he released his first digital compilation called "Pranava Mantra". It included 5 powerful tracks by great artists such as: A-Mush, Brain Driver, Hyperactive, Orca & the debut track of a new project Resonanz3 (Z3ro + Remove). In 2013, he launched his second release, a fresh and mighty CD Compilation, totally compiled and designed by him, that was called "Fractal Syndrome" with fantastic collaborations by the most innovative artists from around the world such as: Alienn, Android Spirit vs Distant Touch, Brain Driver, Deliriant, Locked Locker, Tryon, Outer Signal, Remove, the return of a psytrance legend Psywalker and a fantastic cooperation by Scorb with special music and his fantastic work in the mastering. This releases is proof that with passion, respect and time, original and exciting possibilities are still within our grasp.
Don't forget to tune in
Psytrance / Goatrance :
http://schizoid.in/schizoid-psy.pls
Chillout / Ambient :
http://schizoid.in/schizoid-chill.pls
Progressive Psytrance :
http://schizoid.in/schizoid-prog.pls
Dub Techno :