Dear friends,
Hope you are safe and well . Radio Schizoid brings you "Lockdown Special– Part 6" with a 2 hr session featuring X-SIDE ( Sonoora Records / Quantum Sorcery Records / Mexico ) & Ishikawa ( Angad Kumar Kapoor / Phonix Records / Kaos Krew Records ) on 13 May 2021.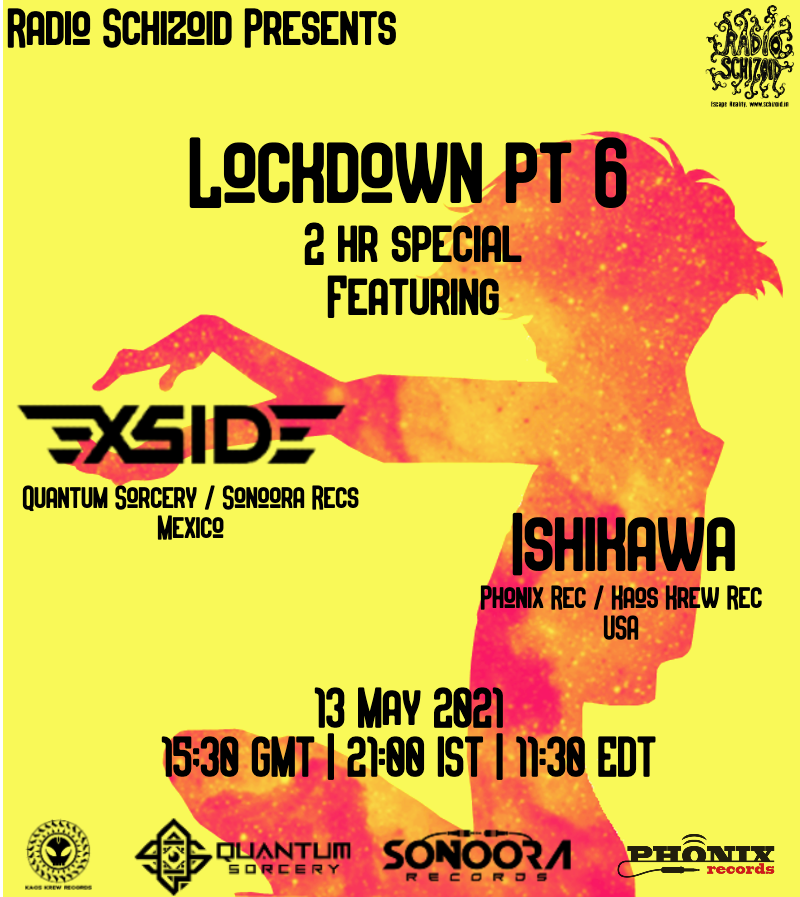 X-Side is the musical endeavor of Luis Cruz from Mexico. The intense scene in Mexico City gave him all the inspiration he needed to sharpen his skills and to start creating some maddening tracks.
After some time spent experimenting, he finally found a sound that is truly his: energetic, fast paced, relentless, rumbling awesomeness. It's a spinning, topsy turvy laser show turned into music, yet precise enough to target single neurons at will. Eat a light meal because you'll be moving plenty to the unrelenting kick and bass with heavy mass. This is fir anyone who likes to shake it properly until the end of the night.
X-Side Music allowed him to play across Europe and it caught the interests of legendary producers with whom he got to share views and ideas and work on amazing collaborative tracks.
This is a rolling rock that won't be stopped. It's only gonna get better.
Ishikawa is Angad Kapoor from Mumbai, India. At the age of 14, he first came into contact with psychedelia listening to Infected Mushroom's Psycho. Although he is most interested in music for the twilight hours featuring music from the likes of Lost N Found, Digital Talk, and Earworm – his sets range from euphoric morning sounds featuring music by Burn In Noise, Protoculture, and Terrafractyl amongst others; to bone crunching dark music from the minds of artists such as Claw, Para Halu, Entropy & Rev.
Presently based in Atlanta USA where he has graduated from university – his mixes have been regularly featured on a number of radio streams now, Radio Schizoid (India), Pump Up The Volume (France), Boomadelic (Israel), The Cheeky Grin (Australia) and Babaganousha (Germany).
Having been active in the scene for over 8 years, in 2010 he decided to join Phonix Records with the intent of promoting upcoming artists and above all – pushing nothing but good music. Since then he has gone to play at a number of parties as well as the third Sacred Seed festival in Georgia, USA. In 2011, he joined the legendary Mechanik Records family to continue forward with his mission of promoting nothing but the very best in psychedelic trance music.
Don't forget to tune in
Psytrance / Goatrance :
http://schizoid.in/schizoid-psy.pls
Chillout / Ambient :
http://schizoid.in/schizoid-chill.pls
Progressive Psytrance :
http://schizoid.in/schizoid-prog.pls
Dub Techno :