Dear friends,
Ishikawa ( Angad Kumar Kapoor / Phonix Records / Mechanik Records ) & Psykoatl ( Marco Reyes Balam / Tzolkin Records / Woorpz Records / Mexico ) come together to give you "Space Cowboys" session on Radio Schizoid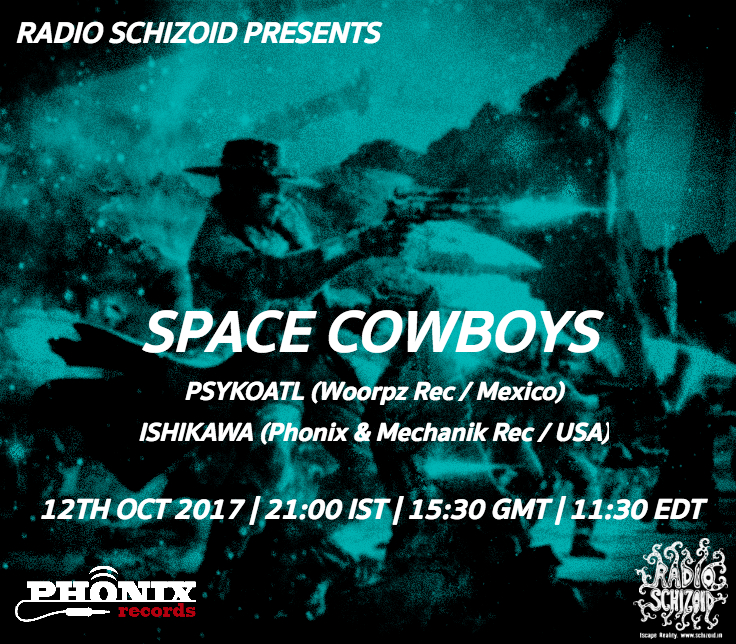 Ishikawa is Angad Kapoor from Mumbai, India. At the age of 14, he first came into contact with psychedelia listening to Infected Mushroom's Psycho. Although he is most interested in music for the twilight hours featuring music from the likes of Lost N Found, Digital Talk, and Earworm – his sets range from euphoric morning sounds featuring music by Burn In Noise, Protoculture, and Terrafractyl amongst others; to bone crunching dark music from the minds of artists such as Claw, Para Halu, Entropy & Rev.
Presently based in Atlanta USA where he has graduated from university – his mixes have been regularly featured on a number of radio streams now, Radio Schizoid (India), Pump Up The Volume (France), Boomadelic (Israel), The Cheeky Grin (Australia) and Babaganousha (Germany).
Having been active in the scene for over 8 years, in 2010 he decided to join Phonix Records with the intent of promoting upcoming artists and above all – pushing nothing but good music. Since then he has gone to play at a number of parties as well as the third Sacred Seed festival in Georgia, USA. In 2011, he joined the legendary Mechanik Records family to continue forward with his mission of promoting nothing but the very best in psychedelic trance music.
Marco Reyes is "PSYKOATL"( maybe you are asking yourselves WTF does it mean?, well there's a little and quickly explanaition he wanted the name QUETZALCOATL[mexican deity] with the word "PSY" and he chose the name QUETPSYKOATL but was too large so he made it shortly to PSYKOATL, and it means: MENTAL SNAKE) his first contact with psychedelic music was on september 2005 instantly fell in love with the scence of the psy-trance music since then he started to assist to all parties in his city and other near by. After some parties he got the feeling to "be like the dj's" and started to practice with some friends, after that he got invited to some private parties and play in there. Then finally he could play at some parties with live act. His style is based on night time psytrance music hi-tech, twilight or whatever you want to name it.
Don't forget to tune in
Psytrance / Goatrance :
http://schizoid.in/schizoid-psy.pls
Chillout / Ambient :
http://schizoid.in/schizoid-chill.pls
Dub Techno :
http://schizoid.in/schizoid-dub.pls
Cheers 🙂