Dear friends,
Brain Driver ( Sylvain Cornut / France /Fractal Records / Dropland Recordings ) – joins us tonight for an exclusive interview with Ishikawa ( Angad Kumar Kapoor / Phonix Records / Mechanik Records ) on Radio Schizoid.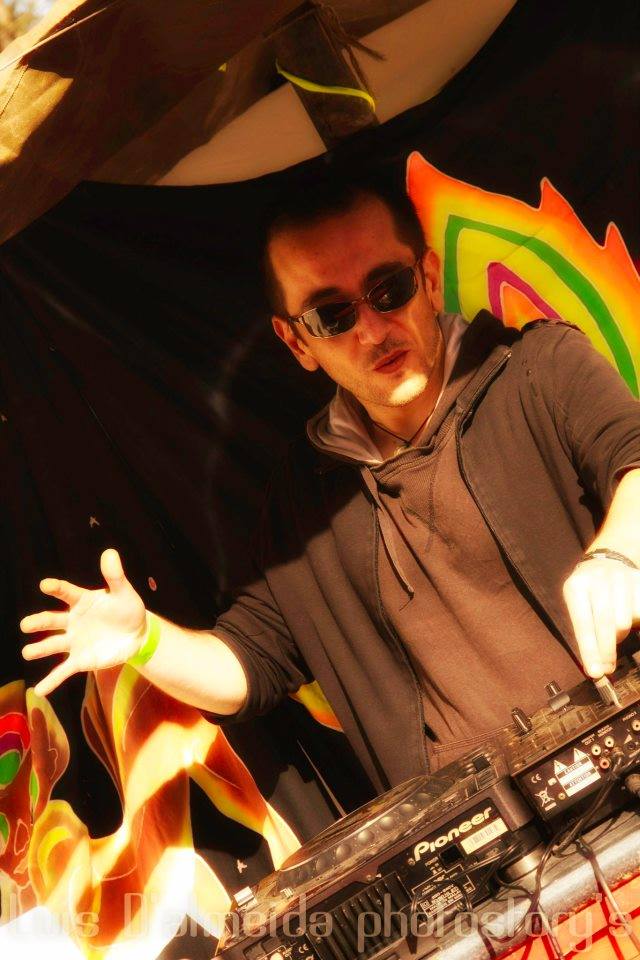 [ Ishikawa ] Sylvain, thank you so much for taking the time to chat with me once again. Please tell us a little bit about yourself and how you got into the psytrance scene?
[ Brain Driver ] Hey Angad, thanks for having me here once again. Long time since the first one!
Wow it's a long story, to make it short i entered into the electronic music world mid 90's and i produced a lot of different style of music at this time (Techno, Hard Techno, Hardcore, Drum'n'bass, trip Hop) under various nicknames till 2003. Then i had the luck to cross the road of Gilles Hyperfrequencies with a friend. We spent the afternoon with him speaking of his adventures around the world and listening music made by him and some of his talented friends (like Neuromotor, Crazy Lions Cult and more…) , i felt like a musical awakening listening all this amazing music!
When i came back home i wasn't the same, something i can't explain happened. So i've decided to experience the Psytrance world by myself and went to my first psytrance party (organized by the french association Hadra) and there it was a true musical shock for me! It definitely changed my life. After few parties and experiments in the studio, My Brain Driver project was born.
[ Ishikawa ] Whats the story behind your chosen project name – Brain Driver?
[ Brain Driver ] Not a big thing, driving people's bodies on the dancefloor is just the effect i wanted to get with my music (…and Legs Driver didn't sounded good haha)
[ Ishikawa ] As I mentioned earlier – it's been 6 years since the last time I Interviewed you back in 2012. What is your studio setup these days and what is the typical process of making a Brain Driver track? Any big changes in the way you approach things?
[ Brain Driver ] It doesn't evolved that much. Actually i'm sill working on a pc with Cubase Pro 8 and Bigwig 2 (and with a Macbook Pro and ableton Live 10 for Live set), i still have my good old RME fire face 400 soundcard (and a little Native Instrument audio 2 for live set) and my Focals Solo6be monitors.
I upgraded my parc of hardware synths a bit. I still have my old Access Virus TI and added an Electron Analog Four and a Kilpatrick Audio Phenol to it which introduced me to the modular world and i think the main evolution in the studio is certainly my Eurorack modular synth. I started this adventure past year and it became quickly a huge addiction (and also a killer of bank account I admit it hehe)
My approach for making music have slightly changed with the years yes. Before i often started by the intro and advanced little by little on the track till the end. The problem of working like this is that you often (to not say always) loose yourself and the initial inspiration you get when you started it.
Now I try to go faster by writing the whole theme of the track in one day (including Kick bass and Rhythmic elements), once the idea is here i write a simple arrangement to have the structure. and then i can spend the time i need to finish and polish it, i know the idea is here and won't fly away.
[ Ishikawa ] You recently put out your 2nd compilation, XYON, on Fractal Records. Tell us a little about this release and its signifcance to you?
[ Brain Driver ] 'XYON' (X (ten) Years Of Noise) is a big project i started 1 year ago now, I released the first one 'Beats Bluster' to celebrate the 5 years of my project, so the idea of making this second compilation naturally came to my mind when the 10 years were around the corner.
I did not want it to be a simple random selection of tracks i love, but more like a real story. For me, it was also very important to create a real vibe so I tried my best to involve everyone to create a musical travel from the start to the end. There are so many amazing, inspiring works included in it that I admit I have shed out a tear or two when I listened to the complete release for the first time. It is hard to even describe the feeling 🙂
Inside you will find music from Android Spirit (a beautiful project by the talented Tickets (Josef Morgan / South Africa) and Daksinamurti (Till Kuhn/Germnany) ), Can Of Tomato Soup (The new project from my old and blasting friend Iron Lotus (Daniel Honor) and Contrast (Conor James Steed) from South Africa), LEOF (the side project of my good friend Mario Funes aka System Sequence from Mexico), Brain Driver (Don't know this guy haha), Neuromotor aka Fredereck-Ali Talaa (Do i need to present him? I'm very honored to see his big return on my compilation), Antispin (I don't think i need to present this UK duo of Hugo Rendell and Daniel Anthony hehe), Scorb (Ady Conor – an amazing guy and friend. I'm a big fan of his music since the start and I am really glad to have him in this adventure. He also made the killer mastering for this compilation), Rafyx (Rafa Crespo – a new Portuguese artist that i discovered recently, i really loved the groove and the feeling of his music), Shred'er (Ju Shred'er – a french artist that I also discovered very recently, it was a realy happy soundcloud surprise for me) and Radical Moodz (which is a fresh duo from France, Maxime and Dominique, their music won't let you static for sure hehe). Of course, a special mention to Meskalart Graphic who just put the cherry on the cake with this outstanding cover artwork!
I really want to thanks again all the artists for trusting in me till the end, for their amazing music and their real involvement in it but I also want to give big thanks to my friend and Fractal Records boss Roland Solaris who gave me a total freedom to realize this amazing project.
It was a really exciting musical and human adventure and to be honest i feel already nostalgic to see this project coming to an end. Well, now time to focus on the next big adventure I guess hehe.
V/A – XYON – SAMPLES:

V/A – XYON now available on Beatport:
https://www.beatport.com/release/xyon-compiled-by-brain-driver/2230670
[ Ishikawa ] You have also recently started work on a new project named 'H!T'. What is the new project about and how does it differ from Brain Driver?
[ Brain Driver ] I'm happy that you mention this new project as I haven't speak of it yet. Yes it will be very different of my Brain Driver project, more straight but also more (experi)mental and psychedelic. I'm working on a debut EP called 'Tokitobashi'. It's an interesting exercise for me after 10 years of working almost exclusively on my Brain Driver project. I always love new challenges.
H!T on SoundCloud:
[ Ishikawa ] You have now been a part of the Fractal Records roster for 7 years now, a household name known for quality twilight psytrance. How is it like working with such a well respeced label?
[ Brain Driver ] It has been a real pleasure and a great honor for me of course. I will always remember the day I received this message to join the team :)Really I think could not expect a better home for my project. The entire Fractal team is just so amazing and supportive! Roland always gave me a total freedom for all my releases and really trusted me and my music which was and still is a real motivation for me to create and trying to innovate each time I release something.
I will never be able to thank him enough for all the amazing moments I have had the opportunity to experience musically and as a person over the past 7 years. For me it is a way of life more than a label, it is my Swiss family and each time I come to visit them I really feel at home.
[ Ishikawa ] A Brain Driver RMX is always something special in my books, having remixed respected artists like Shift, Ex-Gen, and Biogenesis – to name a few – what is your secret to making such awesome remixes? Any upcoming suprise RMXes in the future?
[ Brain Driver ] Awww thanks man, I really appreciate the compliment! This is an exercise i generally love doing. I don't know if it is really a secret but personally I just try to respect the original track as much as i can.I generally start by asking myself how i would have done it if i had written it myself, then I create a new folder where i put the fundamental elements i need from the remix pack (or I bounce audio part from the project if the artist send me the full project) to make it and then I start writing my own version with those elements .
Yes, I have actually few remixes on the way that i need to finish or polish a bit, they should see the light of the day hopefully soon. But indeed, some nice surprises are coming!
Check out free Brain Driver Remixes here:
[ Ishikawa ] What can we expect from the Brain Labs in the future?
[ Brain Driver ] I have tons of new projects in the pipeline for 2018. Actually a bit too early to make announcements, but a LOTS of new music for sure including exciting collabs, remixes and more.
Brain Driver on Sound Cloud:
[ Ishikawa ] Tell us a little bit about the psytrance scene in France.
[ Brain Driver ] The scene is doing well from what I see lately, a wave of new talented artists have appeared and some serious organizors are still here to give us parties/festivals with quality lineups.
[ Ishikawa ] What has been your craziest party experience yet?
[ Brain Driver ] Crazy… hmmm the one that comes to my mind was in Switzerland for a Fractal Christmas party. I closed the party and at the end of my set people didn't want to leave the club and asked me for one more track. The boss of the club finally agreed to one more track and at the end of this one too, people still did not want to quit and leave the club and asked for yet one more. The club boss was peer pressured to accept and agreed once more and again at the end of the second one, people still persisted and did not want to leave the club and tried to have yet another one. The security guys did not know how to react, I was a bit sorry to see them in that situation but I admit that from my point of view it was funny hahaha
[ Ishikawa ] A final wacky question now, if you had to pick your spirit animal – what would it be?
[ Brain Driver ] Without hesitation : the cat
[ Ishikawa ] Sylvain, thanks so much for your time today. Before we end the interview, any final shout outs?
[ Brain Driver ] Thank to you Angad, it was a pleasure and of course thanks a ton to all the people who have followed my musical journey during the past 10 years 🙂
Relevant Links:
Brain Driver:

https://www.facebook.com/BrainDriver.Official/
H!T:

https://www.facebook.com/thehitofficial/
Fractal Records:
https://www.facebook.com/FractalRecords/

VA-XYON compiled by Brain Driver:
https://www.beatport.com/release/xyon-compiled-by-brain-driver/2230670

Don't forget to tune in
Psytrance / Goatrance :
http://schizoid.in/schizoid-psy.pls
Chillout / Ambient :
http://schizoid.in/schizoid-chill.pls
Dub Techno :
http://schizoid.in/schizoid-dub.pls
Progressive Psytrance :