Dear friends,
                      Future Monkeys are a Psytrance band from Portugal that redefines the psychedelic spirit. Tonight they join us for an  interview with Ishikawa ( Angad Kumar Kapoor / Phonix Records / Kaos Krew Records ) on Radio Schizoid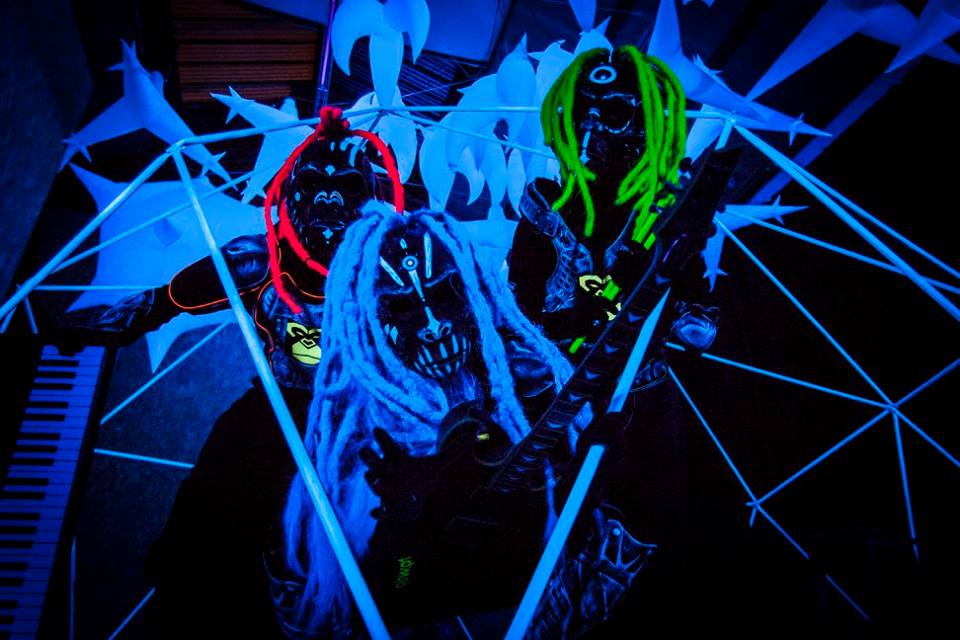 [Ishikawa] Guys! Thank you so much for taking the time to chat with me today. For those who don't know you, can you tell us a little bit about yourselfs.
[Future Monkeys] Hello Ishikawa.First of all we would like to thank you for this amazing opportunity to share with the world our journey through the PsyTrance scene.
So, our Journey starts in 2011, when finally, after years, composing music in studio, 5 monkeys arrived from the future and meet the great and talent producer and engineer, Razat, who help us finishing and releasing, our first EP called Future Monkeys.After that we start to perform mainly in Portugal, first in small parties and promoting a few, during a couple of years until arriving to bigger stages.
Along the years the band had some changes, some Monkeys left some new arrived, the image also grew, with the support of a talent Human artists such as RAF (Rui Ferreira), Taylor (Pedro Taylor) and Joao Cabral.In this moment the band members are Master (the red Keytar), Atom (the blue Guitar), Sicko (the green Drum) and Vj Torus (David Negrao), and actually representing Kaos Krew Records
[Ishikawa] What is the story behind your primary projects' chosen name – The Future Monkeys?
[Future Monkeys]Like our name says we came from a multiverse future where the monkeys have evolved the capacity of communication through music, with different species in the universe.This concept merged the primitivism of the specie with the technology, being the base of our work and the reason of our name Future Monkeys.We are Monkeys that came from the future.
[Ishikawa]Who are your main musical influences?
[Future Monkeys]Our influences cover several musical styles, since we have different backgrounds.We can mention that some of the influences of Master are bands and projects like Mad Tribe, Prodigy, Tool and Amon Tobin.Sicko's are more into Metal style with bands like Wako, Tool, Lamb of God, Joshua Redman and Beat Music.Atom's influences goes from Slipknot, Soulfly, Static X, Cool Chamber, Fungus Funk and Module Virus to Doors, Nirvana and some old-school Dub music
[Atom] I'm a really big fan of Kurt Cobain and Jim Morrison they like Gods for me .
[Ishikawa]You guys are closest thing to a psytrance band since the Hilight Tribe! What is your studio/live setup like?
[Future Monkeys]we can say that we´ve grown from the spaghetti land (connected to a lot of cables) to a better and simple live setup such a laptop, Motu soundcard, a Schedder Guitarra connected a Boss GT-100, an Alesis Vortex Keytar, and Roland V-drum.In our studio, we still produce like all trance producers using DAW like Cubase 10 and RME Fireface soundcard.Then we incorporate the analog spirit, recording different layers with our live instruments.In addition to these instruments we also used in studio a Roland Gaia Sh-01, Korg ms20 and Nektar Impact Midi connected to some VST
[Ishikawa] What is your creative process to make a new track?
[Future Monkeys] It starts with a story, a theme, some emotion that comes to our minds, that we build the base electronically using the DAW.From there we add our feelings and the primitivism of our souls into the recorded instruments with the feeling of a live band giving a form to the chosen theme and adding some extra layers and fxs to the live instruments.
[Ishikawa]You have recently an EP on Kaos Krew Records – 'Universal Language'. Please us a little more about the new EP.
[Future Monkeys]Universal Language is our new EP released by our current Label Kaos Krew Records, as you mentioned.It consists of 3 songs all of them with a different spirit.The first song Flower of Life, aims to get closer to the new generation of Full On psychedelic music, with more rhythmic and electric sounds.
Listen here:
https://www.youtube.com/watch?v=Jz7N5YG4utU
Already the second theme, Giant Moon Robot, was produced focused on the most electronic of the Full-on Music, without instruments and more electronic synth sounds.
Listen here: https://www.youtube.com/watch?v=mo2w9D1iKvI&list=PLtqHcEYaOr8ptC3OVxdIN4undOxrcTAci
The last track, Universal Language, music that gave Theme to the EP, is the music that shows how a band plays live and also a tribute the great project Prodigy.Why Universal Language? Because music is that!
Listen here:
https://www.youtube.com/watch?v=Tc-G3omNfc4
Future Monkeys – Universal Language EP available here:
https://www.beatport.com/release/universal-language/2601413
[Ishikawa] What do you consider to be your favourite work?
[Future Monkeys]Our work is like our sons, we don't have a favourite one, but we think it might be the next one (Monkeys LOLOL)
[Ishikawa] Is there anyone out there you would like to collaborate with?
[Future Monkeys]Of course but they are too many to name, we hope we have time and the opportunity to work with them all.
[Ishikawa] What can we expect from The Future Monkeys in the future?
[Future Monkeys]More live and rock n roll band spirit with different soundscapes, full of energy like alwaysMusic with no boundaries, no limits and a lot of expression.
[Ishikawa] Portugal has among the most active psytrance scenes in the world. Please tell us a little bit about the local scene.
[Future Monkeys]For Ravers is the paradise, you have party's during all seasons, start on Wednesday in clubs Like Europa Club in Lisbon and end on Sunday afternoon on the forests.So we can say that is a good place to be and we invite all to come.
[Ishikawa] What has been your craziest party experience yet?
[Future Monkeys]One night we were acting at a small club when a lot of cops with masks get in the party and start to kick everyone and pull them against the wall, screaming in our face to take off our faces (masks)That was the craziest and most unforgettable experience we had.
[Ishikawa] A final wacky question now, if you had to pick your spirit animal – what would it be?
[Master] Its the Monkey of course, its the monkeysParrot was the second option (Monkeys LOLOLOLOL)but Monkey is the first and special one
[Atom] My spirit Animal?? …uhmmm i think Humans, special when they are drunk hahah (LOLOL)Its the Monkey for sure
[Ishikawa] Thank you so much for your time today. It has been a real pleasure talking with you. Before we end the interview, any final shout outs?
[Future Monkeys]Thanks for this great experience, we wish you the best vibes and success for your project. We also would like to thanks all the support from our label Kaos Krew Records, our family, artists, friends and fans that helped us grew and don't forget to buy the new EP!Again thanks for your support, Loco. We are all Monkeys! Bringthekaos
Future Monkeys:
https://www.facebook.com/futuremonkeys/
Future Monkeys – Universal Language EP:
https://www.beatport.com/release/universal-language/2601413
Kaos Krew Records:
https://www.facebook.com/kaoskrewrecordspsy/