Dear friends,
Mechanimal ( Nick Sagar-House / 24/7 Records ) – will join us for a special show, featuring an exclusive Liveset, followed by an interview with Ishikawa ( Angad Kumar Kapoor / Phonix Records / Kaos Krew Records ) on 20th February on Radio Schizoid .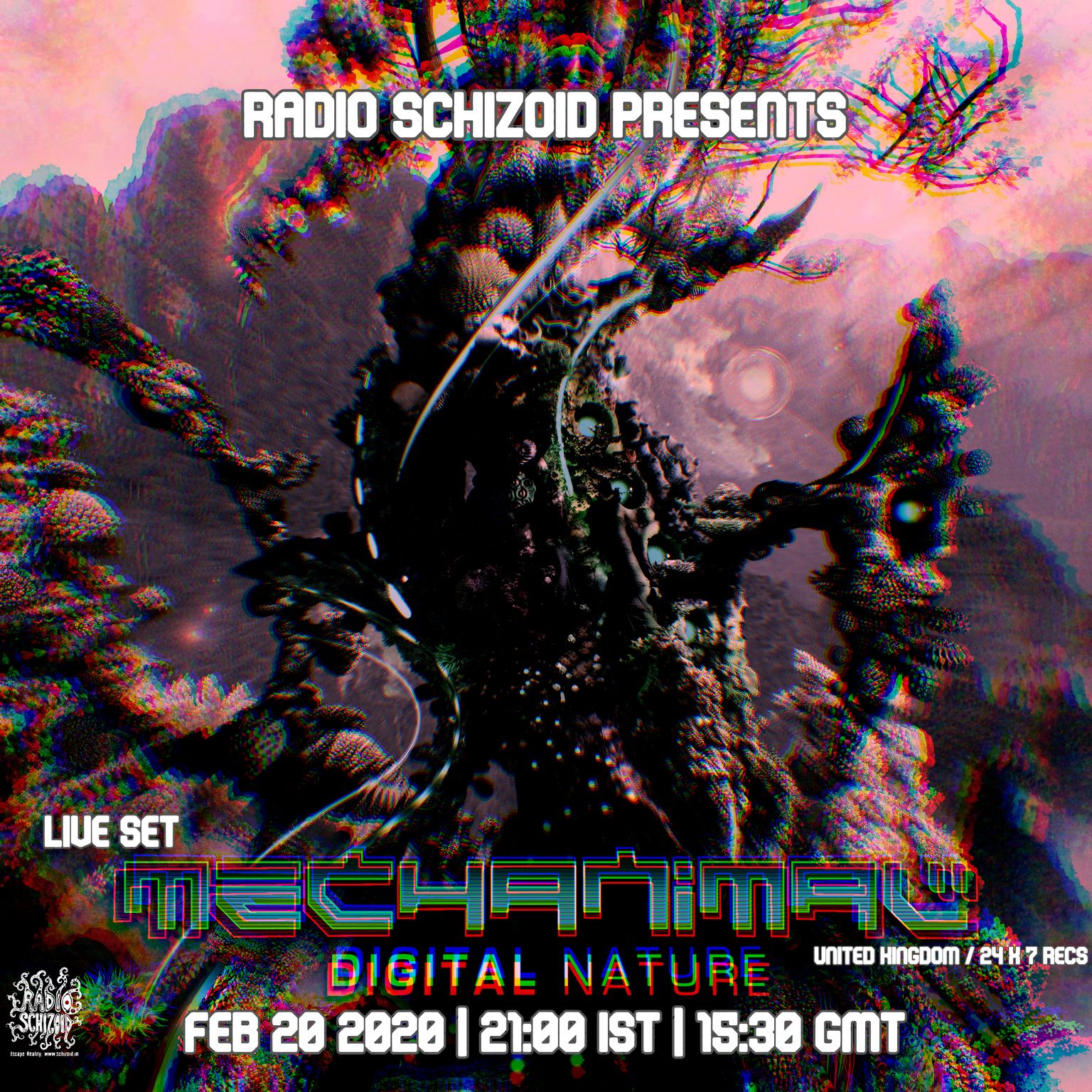 Mechanimal is the solo Psy-Trance project of producer & sound designer Nick Sagar-House, based in Barcelona.
The act was born in London's underground scene, 2009, with promotor of Psy Invasion, Junior Olivier, through their mutual passion for heavy psychedelic music.
The name came about as they used to joke that Nick was the mechanic & Junior was the animal: a funny yet important recipe when it comes to writing technical music yet keeping in touch with the party scene.
After blasting the warehouses of London & releasing EP's on Mutagen Records, 24/7 Records & Grasshopper records early on it was clear that the project had an exciting future ahead.
Through the success of their music they managed to get booked at one of the worlds best festivals, Universo Parallelo, which confirmed their passion of continuing to write psy-trance. Despite this being one of their peak moments it also marked the end of an era as Junior moved back to Brazil. With the distance the two decided to go separate ways & Junior started his solo project "Earbug".
Nick carried on writing as Mechanimal & produced a debut album "Inertia" to mark the start of a new chapter. The album hit number 1 in the charts & he's since performed at some of the most exciting events around the globe, such as O.z.o.r.a., Summer Never Ends & Boomtown Fair.
67 releases & countless parties later we arrive at 2019 which marks 10 years of Mechanimal. To celebrate there will be an Inertia Remixes EP series and original album out soon on 24/7 Records.
Labels released on:
24/7 Records | Alchemy Records | Antu Records | Aphid Records | Blacklite Records | BMSS Records | Catalyst Records | Digital Om | Expo Records | Future Music Records | Grasshopper Records | GreenTree Records | Iono Music | Mutagen Records | Nano Records | Pharmacy Music | Profound Records | Sculpted Sounds | Sub Bubble Recordings | Yellow Sunshine Explosion | Zero1 Music
Don't forget to tune in
Psytrance / Goatrance :
http://schizoid.in/schizoid-psy.pls
Chillout / Ambient :
http://schizoid.in/schizoid-chill.pls
Progressive Psytrance :
http://schizoid.in/schizoid-prog.pls
Dub Techno :