Dear friends,
Hope you are safe and well . Radio Schizoid brings you "Lockdown Special" with a 2 hr session featuring BrainDriver (Sylvain Cornut / Fractal Records / France ) & Ishikawa ( Angad Kumar Kapoor / Phonix Records / Kaos Krew Records ) on May 14 2020.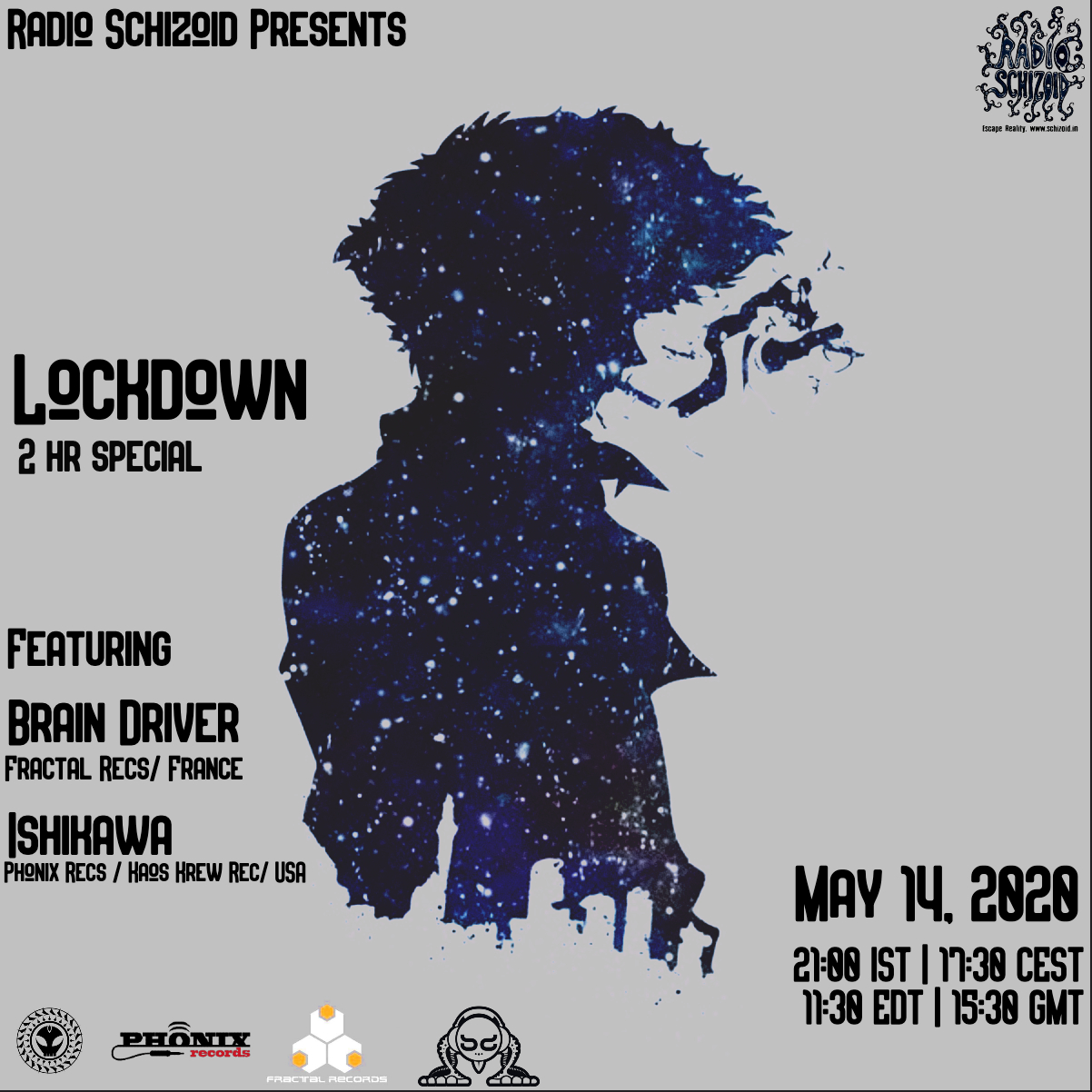 Brain Driver
Sylvain Cornut aka Brain Driver discovered electronic music in 1995 when he attended his first rave in the south of France. He was immediately attracted to this world and after attending many more parties, he bought his first turntables in 1997. He performed at many free parties and nightclubs and in 2001 decided to try his hand at creating his own tracks under various pseudonyms.
In 2004 he attended his first psytrance party, which was a true musical shock for him, and to this day this music and its raw power have definitely changed his life.
In 2006, he felt the call to create psytrance and Brain Driver was born. Since then he has played at numerous parties alongside great artists such as Talamasca, Absolum, Phatmatix, Hyper Frequencies, Geko, Freeze, Artsense, Double R.E.L, Highko, Laughing Buddha, Dick Trevor, Funky Dragon, Illiuchina , Biokinetix to name a few.
He has over the years released various tracks with the likes of Fractal Records, Dropland Recordings, Hadra Records, Terrorlab Industries, Nexus Media, Kaos Krew Records, Mechanik Records, Phonix Records and more…
Brain Driver is an experienced and talented artist who is guaranteed to please the hearts and minds of any dance floor.
Ishikawa is Angad Kapoor from Mumbai, India. At the age of 14, he first came into contact with psychedelia listening to Infected Mushroom's Psycho. Although he is most interested in music for the twilight hours featuring music from the likes of Lost N Found, Digital Talk, and Earworm – his sets range from euphoric morning sounds featuring music by Burn In Noise, Protoculture, and Terrafractyl amongst others; to bone crunching dark music from the minds of artists such as Claw, Para Halu, Entropy & Rev.
Presently based in Atlanta USA where he has graduated from university – his mixes have been regularly featured on a number of radio streams now, Radio Schizoid (India), Pump Up The Volume (France), Boomadelic (Israel), The Cheeky Grin (Australia) and Babaganousha (Germany).
Having been active in the scene for over 8 years, in 2010 he decided to join Phonix Records with the intent of promoting upcoming artists and above all – pushing nothing but good music. Since then he has gone to play at a number of parties as well as the third Sacred Seed festival in Georgia, USA. In 2011, he joined the legendary Mechanik Records family to continue forward with his mission of promoting nothing but the very best in psychedelic trance music.
Don't forget to tune in
Psytrance / Goatrance :
http://schizoid.in/schizoid-psy.pls
Chillout / Ambient :
http://schizoid.in/schizoid-chill.pls
Progressive Psytrance :
http://schizoid.in/schizoid-prog.pls
Dub Techno :